Soft Washing - The Safer Cleaning Method
Why should you softwash your home?
Your home outside surfaces are exposed to the elements every day of the year and this will cause it to wear out and deteriorate if left untreated. Rain, moisture, salt and snow, and high temperatures all put a massive toll on the condition of your home's exterior surfaces that can effectively reduce its overall lifespan and can even cause irreversible structural damage.
Dirty exterior surfaces are prone to infestation of organic growth such as moss, mold, algae, mildew, and different kinds of bacteria that not only reduce your home's curb appeal but can also weaken its structural integrity leading to expensive repairs that will cost thousands of dollars.
Not to mention that these organic growth can cause a variety of respiratory problems and allergic reactions compromising your family's health and safety.
House Washing
A clean home is a happy home. Vinyl siding and home exterior surfaces are constantly exposed to the harsh elements. If left untreated, can lead to irreversible damage. Our expert soft washing techniques are guaranteed to leave your home cleaner for longer with the safest & most effective cleaning solutions available. Your home is in great hands!
Sequim Property Services is your preferred safe roof cleaning and exterior detailing specialist.
We do soft washing, the right way. Basically, we are applying purpose designed, biodegradable, phosphate free, chemical solutions to the surface of your home or business at garden hose pressures (about 60 psi) and rinsing it away.
This leaves the surfaces being treated completely sanitized. It even kills HIV, the common cold virus, and many other viruses and bacteria.
This complete sanitation makes our cleanings last 4-6 times longer than pressure washing would, and with no risk of damage. We are in the business of preserving your investments.
Our low-pressure chemical soft washing application process is extremely safe for any roof, siding material, and the environment.
Not only are you protecting the service life of your roofing system, but also maintaining and promoting a clean property.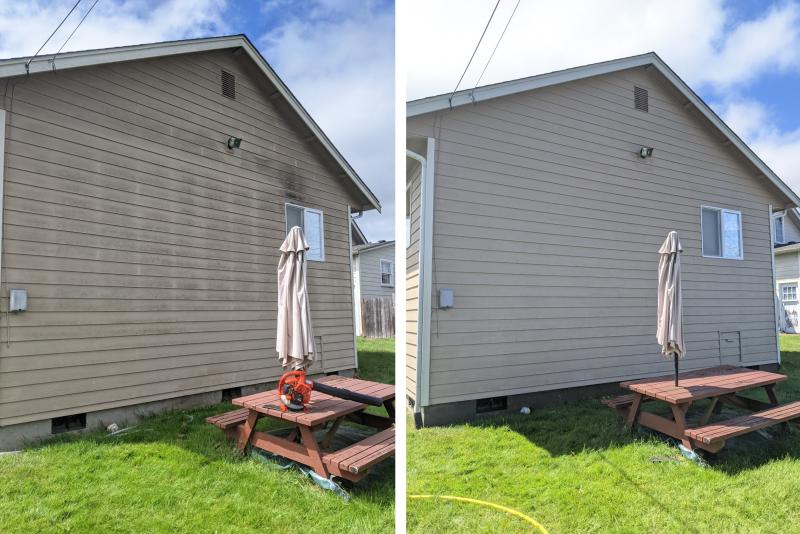 Before & After - Metal standing seam roof cleaning
Soft washing is a low pressure cleaning process commonly used to safely treat and remove organic matter: mildew, bacteria, algae, fungus, moss, lichens in addition to dirt, grime and spiderwebs.
Soft washing originated as an alternative to power washing where high pressure can cause damages.
The application is achieved from low pressure dedicated pumps where measurements of commonly used products, mainly sodium hypochlorite (bleach) and detergents can be precisely metered and applied.
Soft Washing continues to evolve.
Pumps now available producing more pressure than original electric diaphragm pumps, allowing solution to be safely applied at further distances and adding increased rinsing volume. (Booster pumps, air diaphragm, and gas powered diaphragm pumps.
Metering systems, allowing precise metering and mixture of sodium hypochlorite (bleach), detergent and water.
Color marking detergents available to show where mixture has been sprayed, reducing usage while assuring proper coverage.
Remote systems to switch between applying solution and rinsing.
Neutralizing agents to aid in reducing damages that can be caused by chemicals.
Soft washing has drastically changed the proficiency and safety of cleaning structures and roofs.
Before & After of a Trex Style Deck after SoftWashing
Soft washing is a cleaning method using low pressure and specialized solutions (typically bleach, water, and sometimes a surfactant) to safely remove mildew, bacteria, algae and other organic stains from roofs and other building exteriors. It is so named to differentiate the method from power washing.
The Asphalt Roofing Manufacturers Association recommends low-pressure bleach or detergent assisted washing as the preferred method for cleaning asphalt roofs in order to prevent damage to the shingles.
Soft washing is using an electric agricultural sprayer to apply a water-based, biodegradable disinfecting cleaning solution to kill the mold, mildew, bacteria, algae, fungus, moss and more on exterior home and building surfaces.
Soft washing Equipment is distinctly different than power and pressure washing equipment. The electric diaphragm pump applies the cleaning solution at 40-80 PSI.
The equipment used for soft washing may also have telescoping handles so that the cleaning solution can easily reach roof eaves, upper story windows, and other such areas, without this added pressure.
Definitions provided by: https://en.wikipedia.org/wiki/Soft_washing