MEET THE FACES BEHIND SEQUIM PROPERTY SERVICES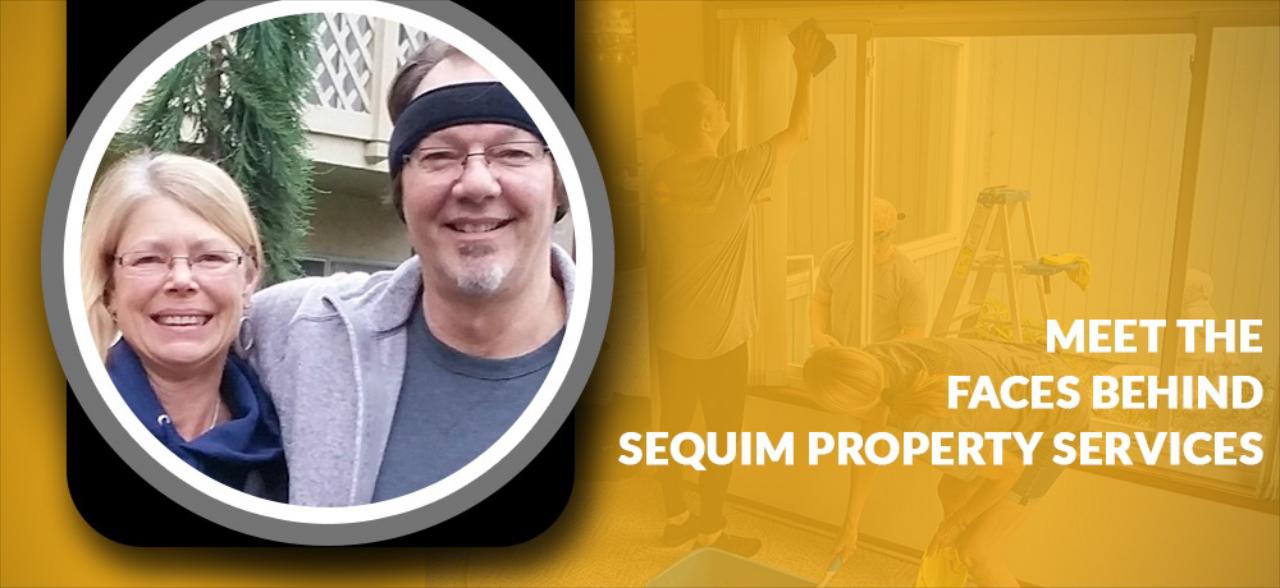 I'm Tim Barber and, along with my wife Terri, are the proud owners of Sequim Property Services.
I look forward to sharing our story. I hope that you will enjoy getting to know us better.
We moved from Vancouver, Washington, to Florida in 1997 as Terri needed a sunny southern exposure to help rehabilitate her knee after suffering an auto accident. My folks lived in Florida, so it made sense to let Terri begin the healing process there.
Once we got settled, I purchased an existing cleaning and maintenance company while Terri continued her career as a journeyman baker while helping me scale up the service company. Soon enough, as Terri started to heal, the enterprise grew in leaps and bounds.
Subsequently, after nine years in Florida, a decision was reached to come back to Washington, as Terri's mum's health started to deteriorate. We had recently purchased a twenty-acre farm in Quilcene, so we also had our eye on growing organic produce.
However, in 2012 when we finally returned to Washington, I found it challenging to get a job as I was considered overqualified. So, having had the rich experience of running a business in Florida for close to a decade, we decided to pick up from where we left off.
Sequim Property Services was started eight years ago as a DBA of our Corporation, Energy Saving Plus, Inc. The name was chosen as it had a broad meaning, and we figured that these were the services the area craved.
Since launching our firm, we've grown our operations from janitorial services, such as washing windows and cleaning airports, to include fully-fledged maintenance aspects. Besides, we've added a residential cleaning crew as the area is mainly houses, so the services are in demand.
External cleaning and maintenance services have also been increased to reflect the growing need for these jobs. It includes power washing and deck restoration. We also have a deal with Gutterglove Inc, which enables us to install the highest quality gutter guards on the market.
Consequently, our endeavor is to create win-win situations, and I believe what sets us apart is that we ensure our customers get the best bang for their buck. We're also proactive and always return phone calls, follow through with promises, and exceed expectations.
I attribute our continued success to implementing the latest software, which has created a finely-tuned automated system. In this regard, key employees have been given cell phones to ensure they are kept in the loop with our real-time operations.
Witnessing the results of a newly built platform which ensures that the younger generation can upgrade their skills while rendering solutions to our customer base is rewarding. As a result, when clients' let us know how much we're appreciated, it fills us with immense satisfaction.
When I'm not carrying out maintenance, I love reading books from the late 1800s to the 1930s. I also play video games with people worldwide, work on home improvement projects, and stay on top of technology.
Terri enjoys gardening, walking her small dog Bella, cooking, canning, watching TV shows, traveling, and doing home improvements with me.
We have been making tomato sauce for several years now and use it to craft spaghetti, lasagne, and many other organic meals from our garden harvest, usually during the months of August and September.
I've enjoyed sharing our story about the things which matter to us and how they influence the way we do business.
If you or someone you know could benefit from our expertise as property maintenance and commercial cleaning contractors in Sequim, Washington, I invite you to get in touch. Please Contact Us.
Sincerely,
Tim and Terri